Frequently Asked Questions
1. What kind of services do you provide?
We provide referrals of companion/homemakers, certified nursing assistants, and RN's who assist with daily living activities, personal care, and transportation. Please see Services page for detail listing.
2. How do we begin services?
We will meet with the client and any family members to help you assess your needs and design your own personal action plan. There is no charge for this meeting. After you determine what you need and your schedule, services can be started within 24 hours.
3. Is there a deposit required?
No deposit is required and you are not locked in for any minimum period of time.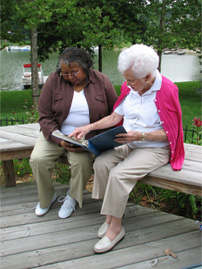 4. Can I change my schedule?
Yes, you can adjust your schedule a week in advance at no charge if your needs change.
5. How are caregivers selected?
All caregivers are personally interviewed by the owner. They are reference checked and criminally checked. All caregivers we refer are mature adults who can relate well to our senior clients.
6. Can I select my caregivers?
Yes, you may interview several caregivers before service begins.
7. Will I have the same caregiver?
It is your choice. Once you are satisfied with a caregiver that will be helping you, you may continue working with the same care giver as long as you choose to. Fostering continuity of care is of great importance to Senior Home Companions.
8. Who do I contact if I have concerns or a question?
Either the founder, business manager, or a select office staff member is available around the clock to address any concerns or questions. We feel that this personal contact is vitally important in meeting the needs of our clients and their families.
9. Whose car will we take on appointments or errands?
Caregivers may take you to appointments or errands in their car and be reimbursed for mileage or they may drive your car at no additional charge; you should discuss this with your caregiver.
10. Are services limited to seniors?
No; our referral services are not limited to seniors. We help people in many situations as they recover from illnesses or surgery.
11. Can you refer caregivers in retirement centers or assisted living facilities?
Yes, we can, and frequently do refer caregivers who provide services in retirement centers, rehab facilities, or assisted living facilities as well as your home.
12. Do you cover holidays?
Yes. Please call the office for a listing of holiday rates.
13. Do you have references?
Yes, a long list of references from satisfied clients is available on request.
Please call Senior Home Companions
for a complimentary home visit
(770) 642-9208